Just before Christmas 2019 we had another 'Leeds running day'. A day with TCS- and HRCA members Hans van Dissel, Peter Zwakhals and Barend Westerveld crawling across the floor, where a large double oval was built with Milbro semi-finescale rails.
Purpose of the day was to run models from the Leeds Model Company. Trains which do not easily run on vintage tinplate rails such as from Hornby or Märklin because of the narrow flanges of the Leeds locomotives.
It is also a great opportunity to run recent acquisitions, whether or not from Leeds. Peter had a few recently purchased Leeds locomotives with him, Barend also had a nice Bassett-Lowke locomotive and Hans ran his Windsor, Vulcan and Bonds locomotives. So that it actually became a Leeds + day.
Given that most locos and rolling stock were more than 70 years and sometimes more than 80 years old, the driving sessions saw surprisingly few problems. The most fiddling was the linking of carriages that had to be connected with very short chains of only three links - we actually have too big fingers for that ... We also had a German and an American train running, which gave our train day a non-exclusively British model railways touch.
---
We started with a post-war Leeds L.M.S. Series II 0-6-2 Tank coupled to some Type B Bogie Timber Trucks and a 6-wheel Mineral Brake Van.

Since the Type B wagons dates from the early years (1922-28), soon a Leeds Series I L.N.E.R. 4-4-0 Standard Tank Locomotive was coupled to the wagons.

The Bonds Hunslet diesel shunter was soon coupled to the same wagons.

Coupling 2 Leeds L.N.E.R. Triple Coach Articulated Trains make an impressive 6 car train. Hans ran his newly acquired Vulcan of Kendal 0-6-0 L.N.E.R. J39 loco heading these coaches.

Soon Barend ran his Leeds L.N.E.R. 4-6-0 Express Locomotive 'City of London' with this coaches.

Followed by a special order Leeds L.N.E.R. 4-4-2 Atlantic Locomotive 'Hazeldean' from Peter's collection.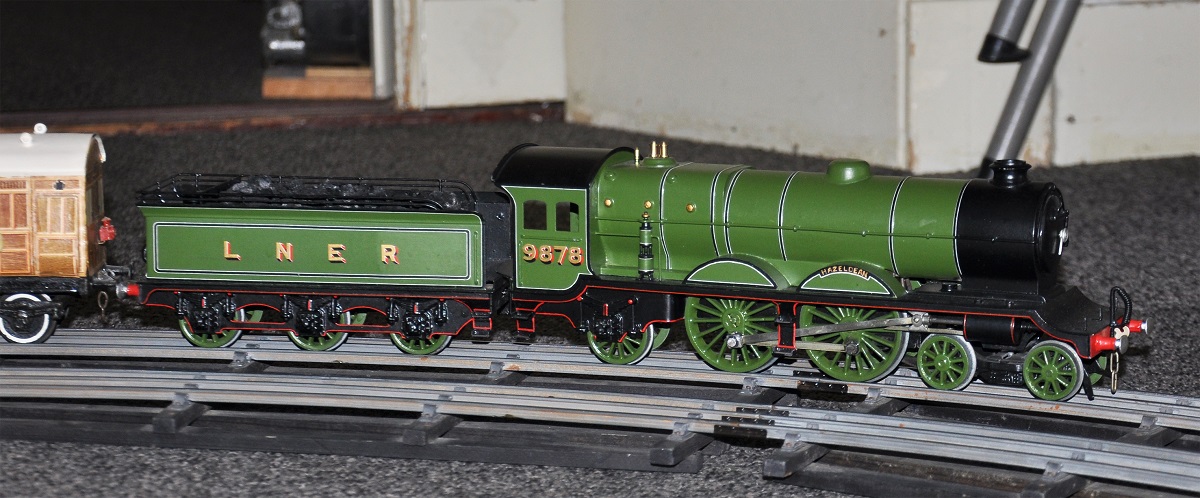 The post-war Leeds L.M.S. Series II 0-6-2 Tank was also coupled to a rake of L.M.S. Bakelite True Scale Models from the correct period.

A Leeds G.W.R. 2-6-0 Mixed Traffic Locomotive 'Mogul' was heading Type B G.W.R. Bogie Milk Vans 'Siphon G.' and a Type B Mineral Brake Van.

Hans ran his Bassett-Lowke L.N.E.R. 4-6-2 'Flying Scotsman' with the 7-car Yorkshire Pullman from Darstaed.

The Yorkshire Pullman meets an empty coal train made up from Leeds pre- en post-war Bakelite Standard Mineral Wagons.

A Windsor Models G.W.R 2-6-0 Castle Class with a rake of R-Models and Millbro coaches.

Accidents do happen.
---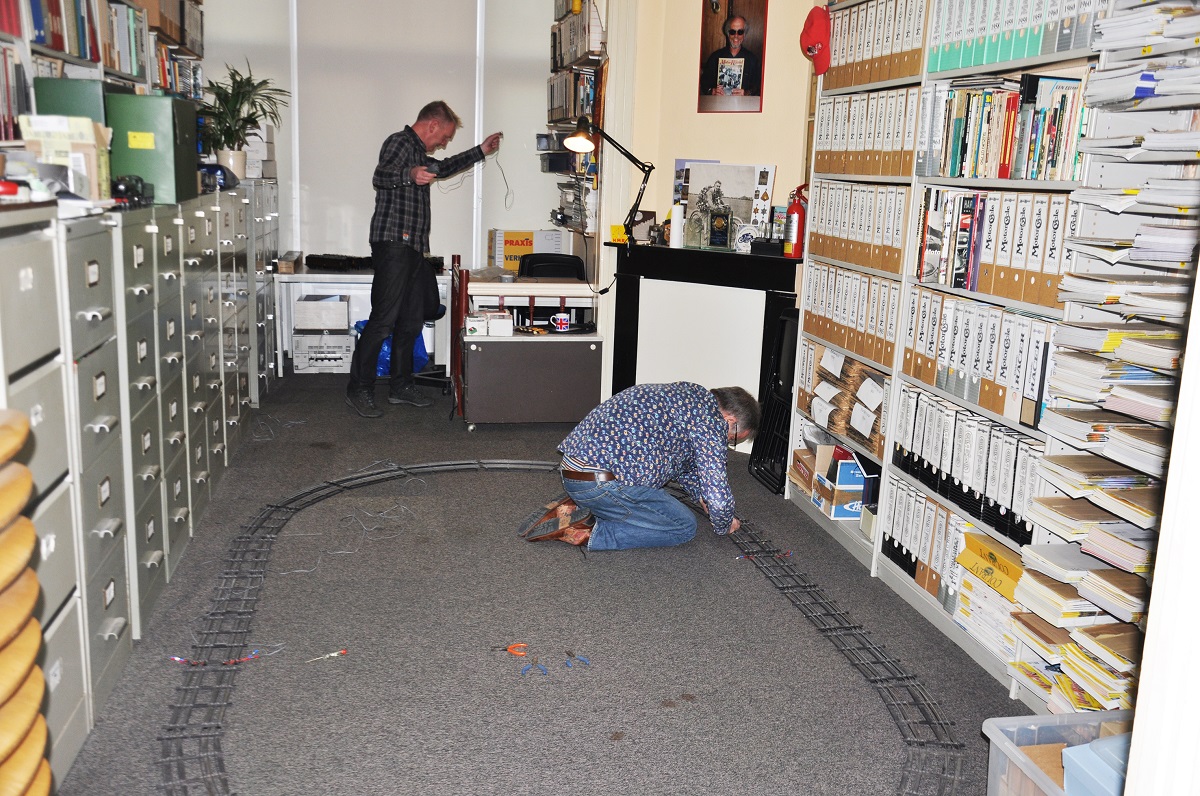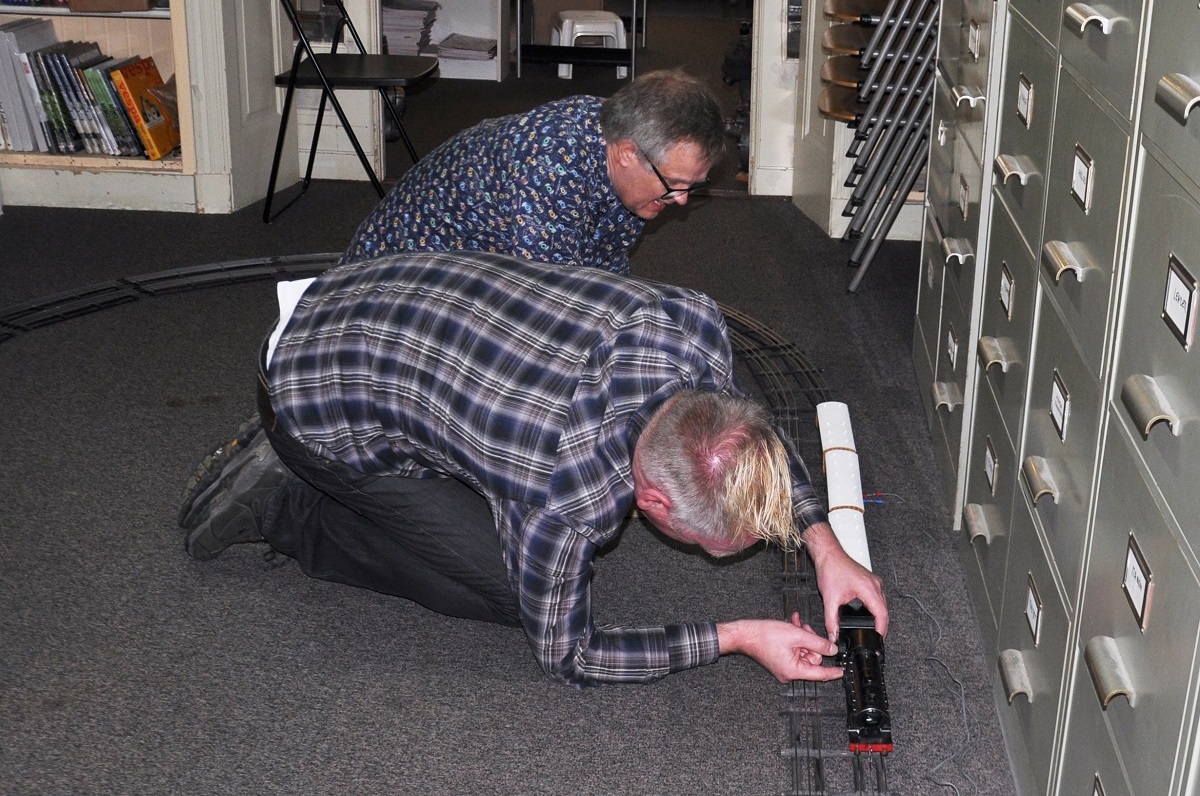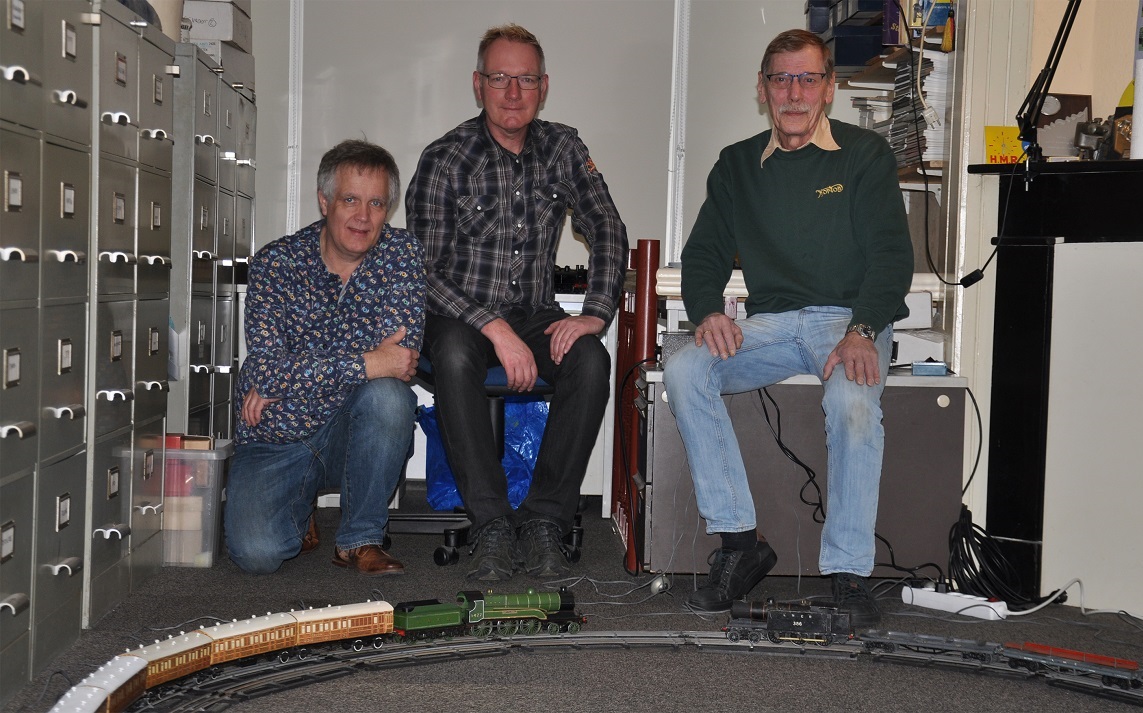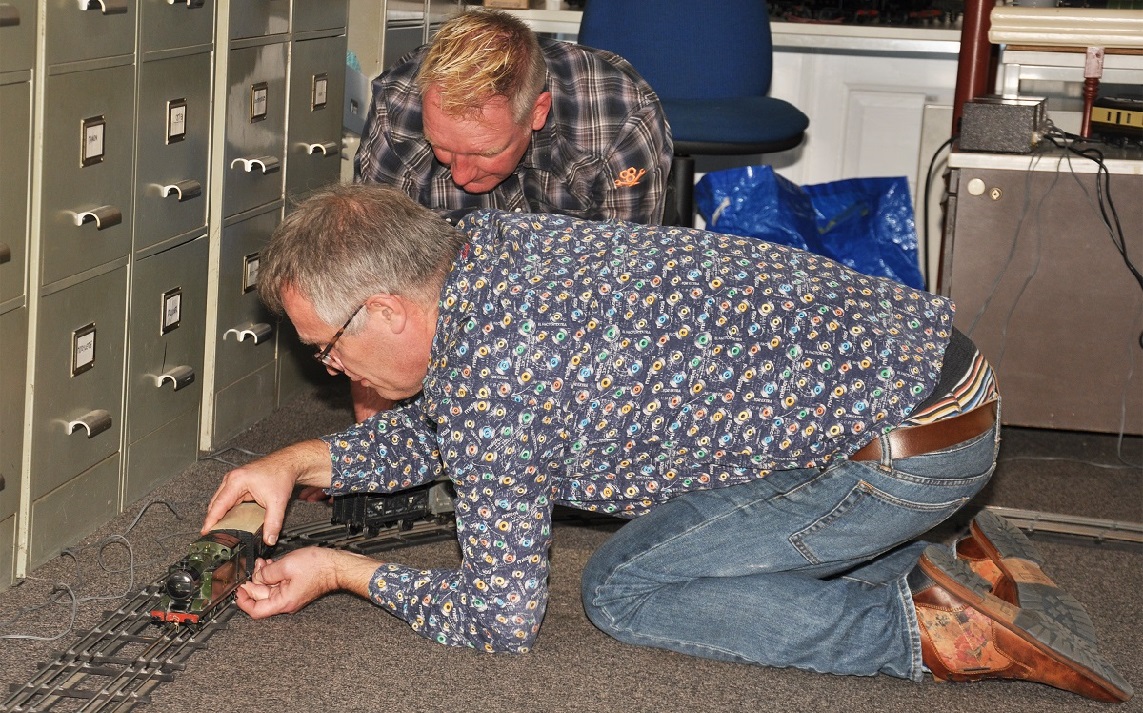 Running railway models on the floor is hard work for old men.
---
The Bakelite Zeuke streamlined loco with short coupled Stadtilm coaches from Hans' collection, kept close with the Leeds-theme. Since these were made in the former eastern-Germany, we included an appropriate flag.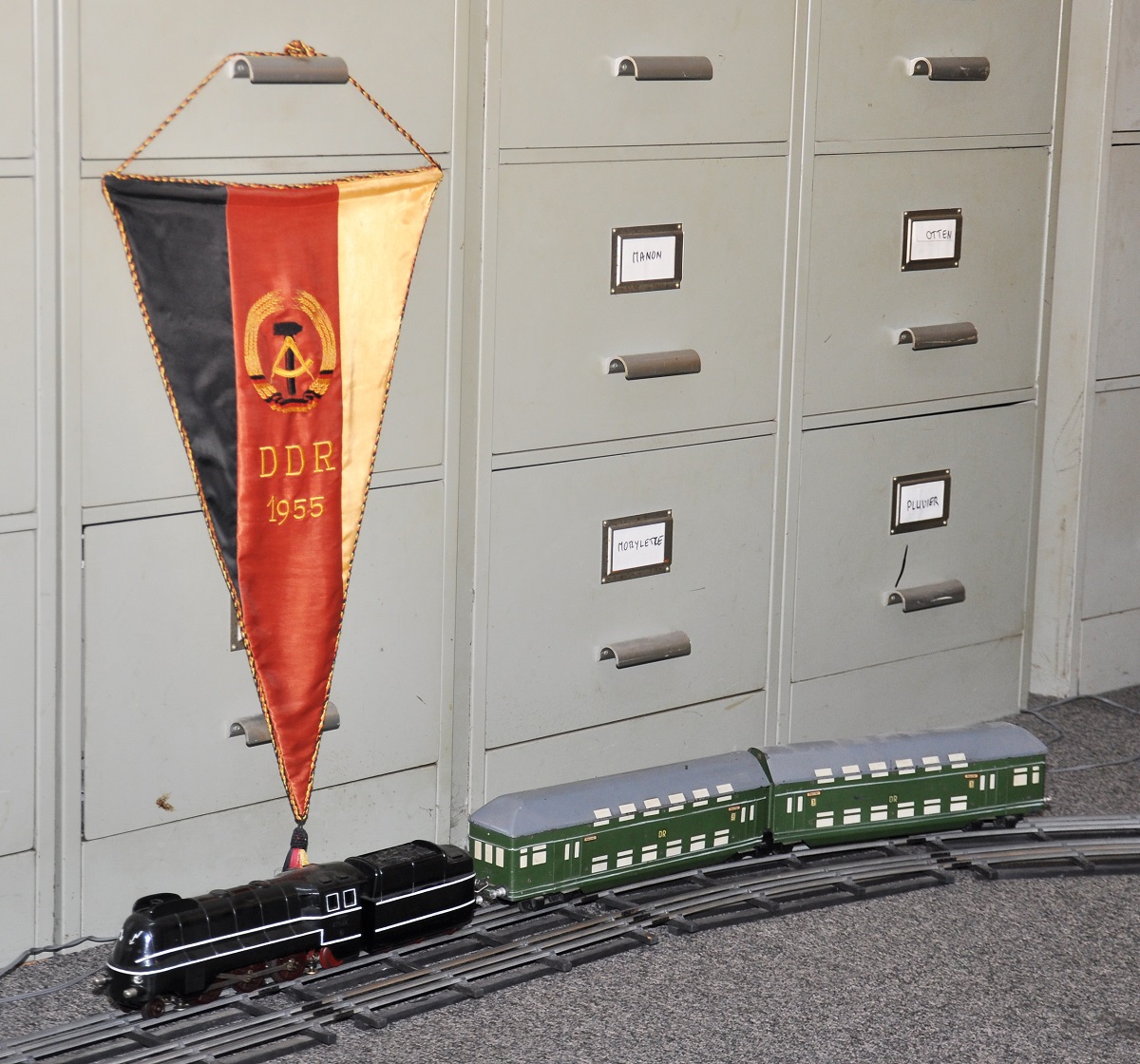 Last runner of the day was a Lionel City of Portland streamlined loco.

Gladly the stock we brought, could be placed on a table.