It has taken me years, but I have managed to build a layout of sorts in my basement. The layout is not that big (about 4.5 x 3 meters), but contains 23 switches, allowing three trains to run at once and giving plenty of scope for shunting - once I get round to installing all the wiring. At the moment the outer loop is functional and powered by an old Lionel transformer. I have a Hornby and a Fleischmann unit lined up for the other two loops.
Track and switches are a mixture of Hornby, Jep, Märklin, Bing, Lionel, Ditmar, Paya and Bub and one switch by a make you've probably never heard of: Lion. If I was to start all over again, I'd probably stick to track of one make, as it is sometimes quite a lot of work to get locomotives and rolling stock functioning properly over the hotchpotch of track. But then, the layout is not only there to run trains: it is also a showcase of tinplate 0 gauge products (or, to put it another way, I don't have enough space on my shelves for all my trains and accessories, so a lot has been put shoulder to shoulder on the layout. A proper railway modeller would probably shudder at the sight of the layout.
Here in the picture some Hornby wagons are on a siding with a Hornby crane and Cabo goods shed, while an Australian Ferris Suburban rumbles across a Märklin bridge, past a pre-war Paya covered platform and a Märklin station with Dutch lettering. Next to the station is a Jep operating crossing and behind the Märklin station is Hornby No 4E one. The upper shelf contains a single loop of gauge 1 track.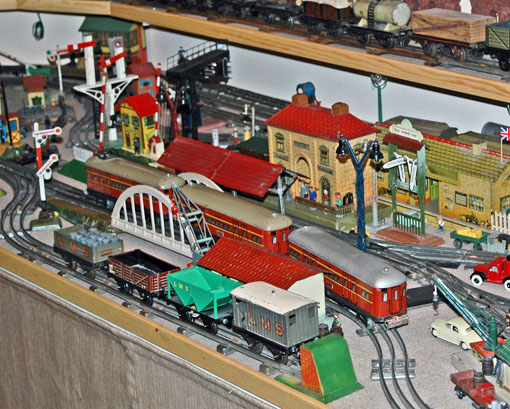 The Bing bridges are crossed by an LMS train, consisting of Bing and Carette for Basset-Lowke coaches (including the operating mail coach) and headed by a 20V Hornby Royal Scot. The station is by Cabo and in the distance you can see two Bing loco sheds and an American Flyer water tower.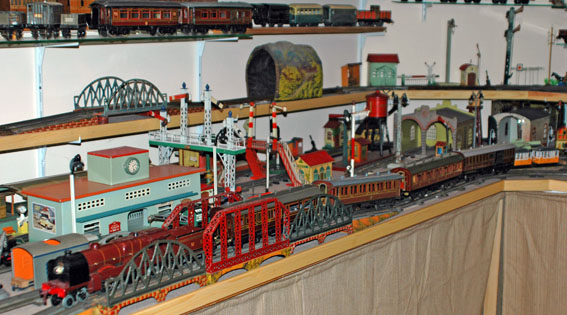 A corner of the layout with loco sheds by Bing (behind the post propping up the basement stairs) and Märklin. In front of the Bing shed with the Lionel water tower a Rossignol loco is waiting, while in the Märklin shed are two Hornby tank engines. On the track next to the Märklin shed stands a Dorfan crane and three Robilt tank wagons are standing next to a Bing goods shed. On the outer track a Bub engine is just visible. Signals and lamps in this corner are by Märklin, Issmayer and Kibri.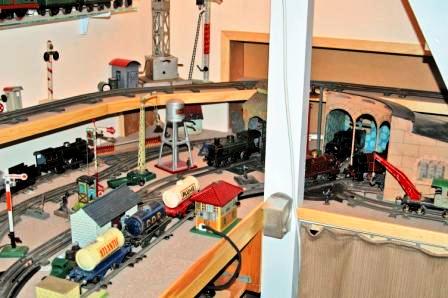 One of my favourite Hornby items is this circa 1923 Midland Railway set. I do not normally go for mint and boxed items, but when this came along on eBay, I just had to have it. I think it is very evocative of the early Twenties and the nut-and-bolt train is nicely proportioned and simply but sturdily made.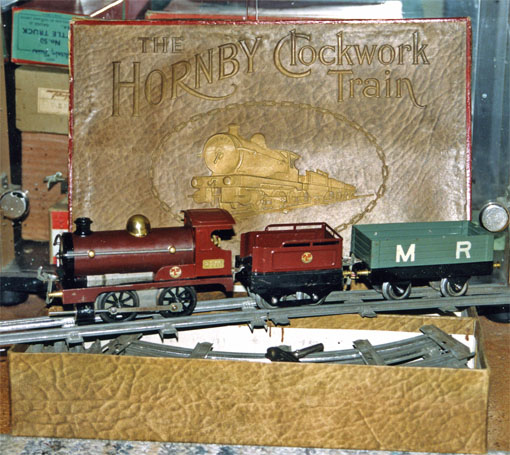 Another early Hornby set (but this time unboxed) I quite like this Great Northern goods train.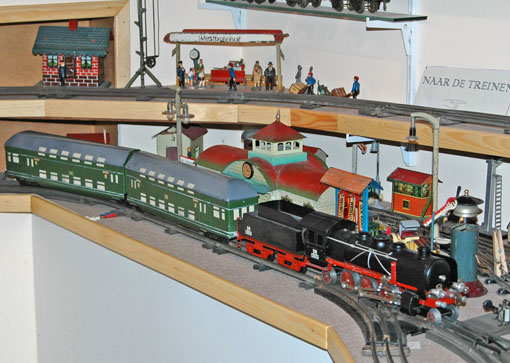 Passing a Kraus station is a Liebmann 4-6-2 with so-called Doppelstock coaches. This former east-German make quality-wise gave Märklin a run for their money.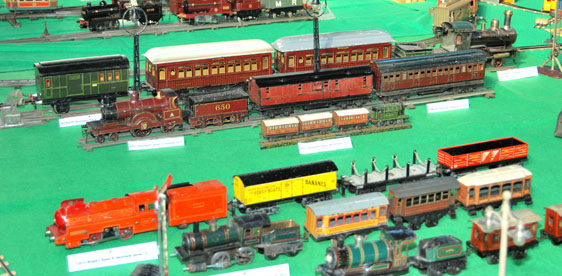 A show at Haarlem station in 2008 offered the opportunity to show a variety of trains in my collection. From front to back: a clockwork Bing 0-gauge passenger set and Issmayer ditto of the early Teens, a Gils electric goods set of the Fifties, an electric Bing Table Top LNER set of the Twenties, an 0-gauge clockwork Bing Midland Single with matching Carette and Märklin coaches and a Märklin gauge-1 set, headed by a Schoenner live-steam stork-leg.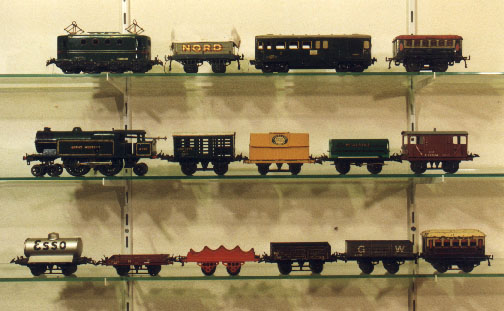 My self-confessed weakness is for all trains, provided they are 0-gauge and made of tinplate. Apart from Hornby, my aim is to collect at least one item of every manufacturer who produced 0-gauge tinplate and so am sure to have a hobby for years to come.
Some of my Hornby items, French as well as British. The almost accidental purchase of the wagons on the second shelf, now more than 30 years ago, and rediscovering them 15 years ago in a trunk set me on the road to collecting tinplate 0-gauge.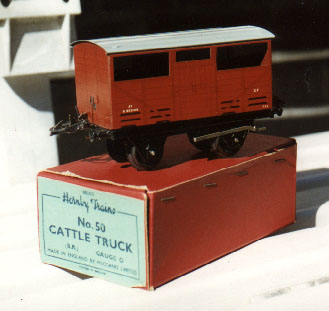 I can't ever hope to compete with Peter's collection of boxed Hornby 0-gauge, but one of the few items I have in this category is this nicely proportioned and still mint No.50 cattle truck.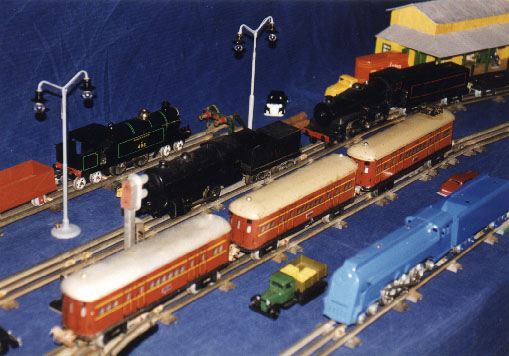 You might think the 4-4-4 on the fourth track is a No.2 Special Tank, but it is in fact a limited-production Fox, with a Lionel motor and driving wheels. Australian-made, as are the other trains on this temporary layout.
On the third track, to the left, a clockwork Robilt 0-4-0 and to the right an electric Ferris 4-6-0; on the second track a Sydney suburban set, also by Ferris, and in front a repainted Maurlyn 4-6-2.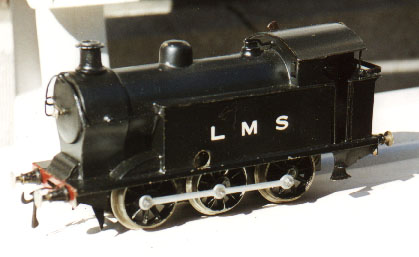 Britain had its fair share of also-rans alongside Hornby and this (left) is one of them, a circa 1930 Walker-Fenn controlled-clockwork tank engine, with most of the mechanism made by Märklin.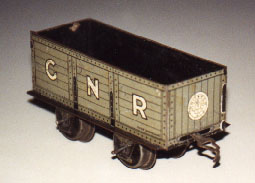 It looks like Hornby, but then it doesn't. In fact it is a lithographed product by the little-known British firm of Whitanco, dating from the early Twenties.