Nostalgic tinplate: a Hornby Tank engine like the one in the HRCA logo.
Like most other members, I have a bit of everything in my train collection. But it's all 0-gauge, primarily Hornby and JeP. When young, my brother and myself had some H0 Marklin, but, although very finely made, I find that this now looks rather sterile compared to the colourful charms of yesteryear. Not to mention the smell of the electrics, and the clatter behind the clockwork.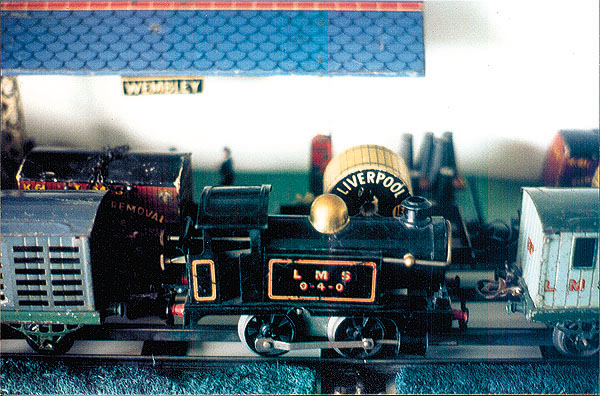 Pre- and post-war Hornby, complemented by a German station.
There's nothing really spectacular about my collection, except from the great pleasure my sons and I get from it. Plus I like to run my trains whenever time and place allow (which sadly isn't much of late), and a simple, play worn little train can be enjoyed just as much as its larger siblings. With less concern about risking 'valuable investments', an aspect of collecting I have my doubts about anyway.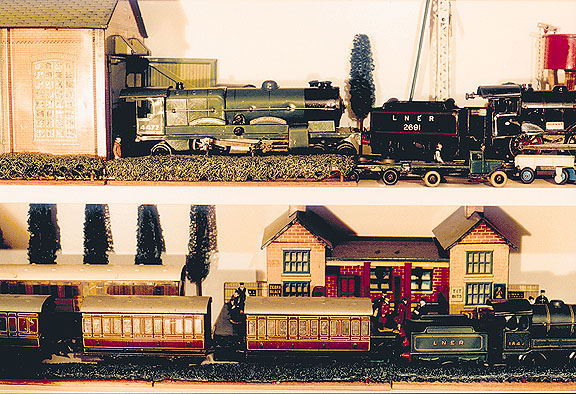 Late 30s JeP streamliner speeding past Club Chair Corner.
Like fellow-member Niek van Ees, I uphold tradition by running my trains on the floor. No room for something more permanent, and figuring out a new layout is at least half the fun - even though it sometimes resembles a contortionist's act! The other advantage is that in case of mishaps, my train won't have to fall down that far either.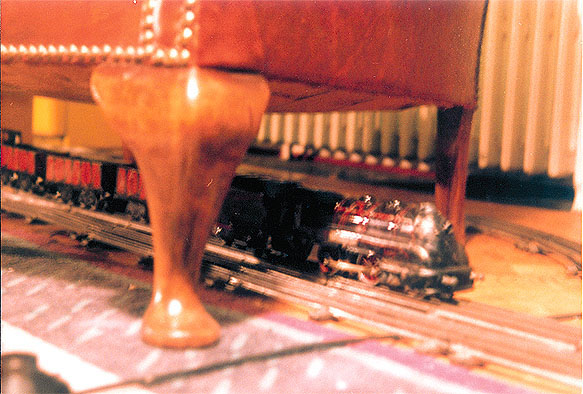 If Meccano could do it, then so can I: copy a Dinky Toy figure and paint it up to have another profession.
One thing the H0 did for me, was to instil the urge for scenery. So a bit of DIY helps to fill out the layout and gives much additional satisfaction to boot. I initially made some tinplate buildings, and some trees and hedges out of loofah for the sake of authenticity (if interested, see my article in the HRCA Journal, now several years ago). Some appropriate cars and Dinky Toy figures (half of them copied by myself) also add much to liven up the scene.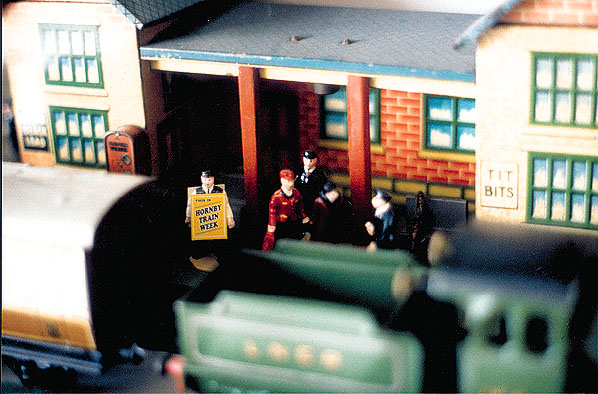 Live steam by Bing. Designed in the early 20s, mine is early 30s judging by the late trademark on it.
All three means of locomotion are represented in my collection. Electric, because I suppose the H0 made me lazy; clockwork, because of the thrill in seeing if it'll stay on the rails; and steam, because it's pure magic! My little steamer is very simple, but catch it against the light and you'll see a cloud of steam around it. And if there's nothing clattering behind it, you can actually hear it, happily chuffing away.